Personalized videos at scale
Add a personal touch to your video email marketing campaigns with custom options to add individual customer details to each video sent.
Send personalized marketing videos to each customer in bulk
Personalized customer videos give a massive boost to your video in email marketing campaigns. Add personal details such as your customer's name with customizable images, voice-over and text, making each email you send unique and valuable to your target customers.
Launch large-scale
personalized video email marketing

campaigns
Your customers are unique, and your email communications should be too. Personalized emails engage your customers more, and you can send thousands of emails with embedded videos tailored to individual customers. Add personal salutations and more to show each customer you care.

Grow your visibility with push technology
Our platform's push technology lets you share your videos via SMS, push notifications and social networks too, promising greater engagement
across multiple platforms.

Account-based marketing (ABM) and sales
Sales teams can even send personalized videos adapted to the specific client. Take your marketing campaign down to a micro level with video emails tailored to each client for increased engagement.
How do large-scale personalized video emails work?
Scaling your personalized strategy with Viewed is simple. First, talk to our specialized team to identify your marketing goals. Clarify whether you'd like to use your own video or require some help bringing your visual content dreams to life. Then, start working with your exclusive account manager to define the scope of the personalized elements in your video: texts, numbers, dates, prices, images, music, voice-overs, language preferences and more.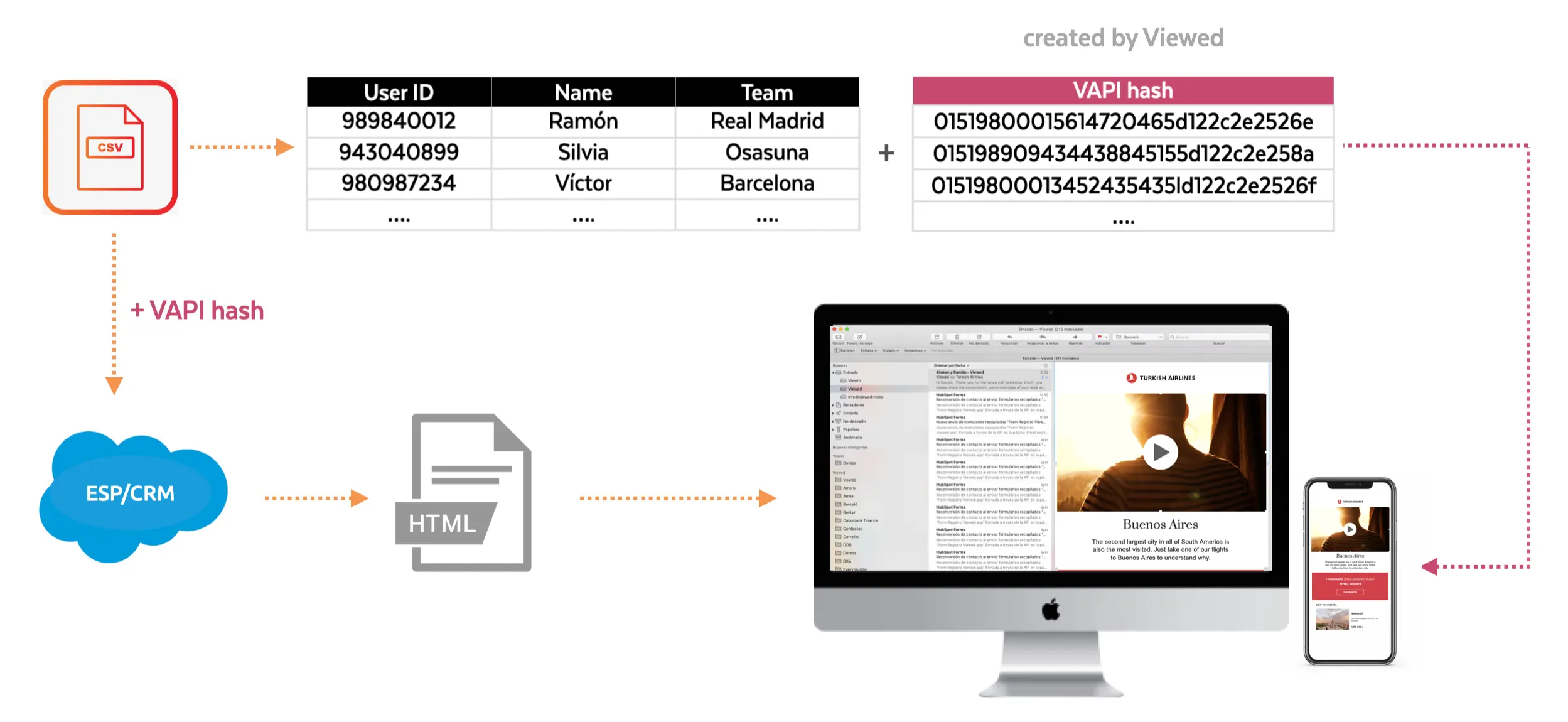 Step 1: Create a .CSV file with all customer data to add to personalized videos.

Step 2: We'll automatically embed all personalized videos in your email campaign, adding a new column to your .CSV with a "video ID" for each subscriber.

Step 3: Embed Viewed's personalized video code in your HTML email template.

Step 4: Upload new .CSV to your CRM or ESP and send the email campaign as usual.
Three tiers to suit your video email marketing needs
Viewed gives you options to suit your budget and video marketing campaign requirements from Starter to Professional and Enterprise for unlimited reach. All packages include enough functions to get you off to a flying start, including live-streaming capabilities and the ability to record yourself with your webcam, and easy integration with MailChimp and HubSpot.