Play Video in Email Inbox
Personalizing the user experience to each email client
Bring your emails back to life and increase conversions up to 200%
Acquire new customers playing autoplay video within external databases. Qualify LEADs, increase CTR and conversion rates, get more and better impact in loyalty campaigns, up-selling, cross-selling and branding.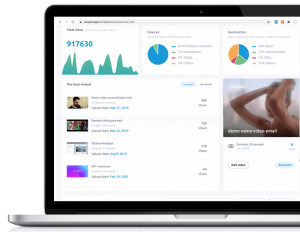 Capture your customer's attention and stand out from your competitors


with the use of autoplay video in email
Get up to 90% of views on your opened emails,
against only 16% that can be achieved including a static picture linked to YouTube. Autoplay video in email is the best solution to quickly spread your message and get millions of video views.
Increase you marketing results
Video is the preferred format for advertisers because

the average CTR is 65% higher than other formats.

There are more than 4.5 billion emails that can play video to increase your conversion up to 200%.
Take full control of your video
Subscribers want to watch your videos, which will always be played alongside your brand and in a controlled environment.

No ads. No competitors. No distractions.

Full attention to your message.
How can I create my video email?
It's really easy to create your video email. Everything is automated and you only have to follow these steps:
This is much more than autoplay video in email inbox, you have the complete video marketing SaaS platform to spread your message

90% of users will have a multimedia experience in the moment they open their email. This is really the key to achieve a greater impact and impressive results. Learn more…

You can also embed your video into your landing page and subscribers can share it on social networks from the email. Consult plans…

See the performance of your video with statistics in real time. Analyze the number of views per device, OS, navigator, email client, country, hour. Discover the average viewing time of your videos.

VIEWED has easy integrations with Mailchimp, Hubspot and BEEfree, but you can copy the video code and use it with 99% of ESPs and CRMs. See complete compatibility here…
Need professional services?
Depending on your plan, you can upload unlimited videos or even enjoy unlimited views. Account Manager to get started, create and develop your campaign. 360 video email marketing consultancy : ideation, creativity and content creation. Premium services: create your ideas and goals.Advanced statistics: losely track every campaign, always knowing where and when you generate more impact.