Stream videos live through email
Promote live events or TV channels through simple and seamless live-streaming via email
Engage your customers with
live broadcasts to their inbox
Deliver personalized email videos of live events from all over the world directly to your customer's inboxes, with customizable data (time, scores, names) and a powerful call-to-action leading them directly to the broadcasting website.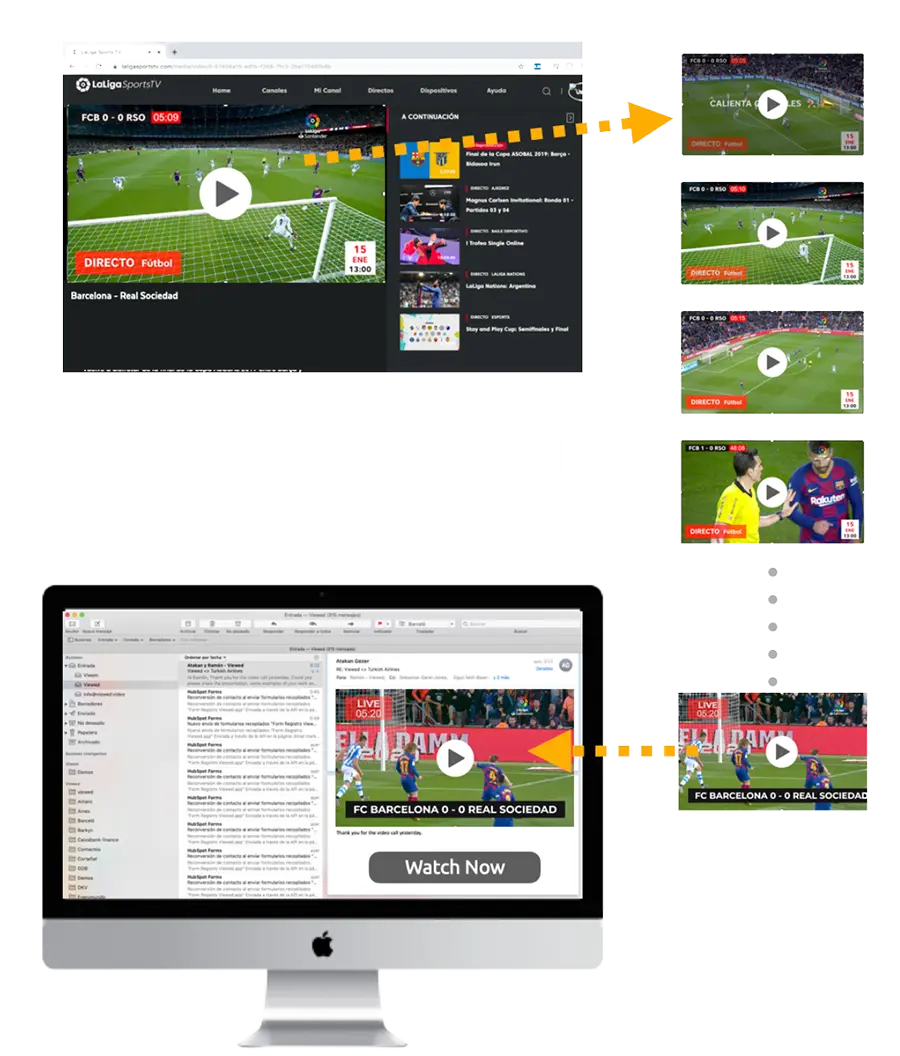 Boost customer engagement

with live video streaming directly to their inboxes

Try our Enterprise package to send the last few seconds of live event coverage to thousands of viewers. Boost your streaming channel's visibility and increase engagement and CTR from potential customers and employees.

Scale your training programs and reach a broader audience by broadcasting snippets of ad-free training to synchronize attendance, boost engagement and inspire brand loyalty.

Enhance your digital channel's presence and visibility by offering sneak peeks of live video content straight to your target audience's inboxes. With our Enterprise package, launch high-volume video email marketing campaigns to grow your viewer base, with unlimited videos and views per month and many other benefits.
How to embed stream video in email?
Step 1: Link a live event to a segmented campaign in your CRM.

Step 2: Embed the video email code in your HTML email template and program the campaign to be launched approximately five minutes before the event's start.

Step 3: Viewed will automatically start creating short video fragments when the event begins, so it's easy to play via email.

Step 4: When subscribers open their email, they are treated to the last 20 seconds of the event, which clicks through to your live-streaming webpage.
Scale up at your own pace.
Viewed video email marketing services become more flexible and customizable as you scale up your email distribution operations. Upgrade at your pace with Starter, Professional and Enterprise package options.
Get going with our cheap and cheerful starter option letting you host up to three videos a month and get up to 5,000 views. You'll get VideoEmail training presentations from our marketing team, and you can easily integrate your videos in email with MailChimp and HubSpot. Our videos are compatible with 99% of email service providers. You'll get access to basic account analytics with global statistics to monitor progress, plus web camera recording functions for your videos.
Upgrade to the Professional video email marketing package and upload an unlimited number of videos each month and reach up to 25,000 views for even more web traffic. Get more conversions by adding calls-to-action to your videos and making them clickable. Plus, embed videos into your business's website or landing page with advanced analytics to monitor your progress in real-time.
Enterprise is our top-tier package for high-volume video email marketing with unlimited views. The full range of functions is ideal for large-scale marketing campaigns, including personalized videos, dedicated data-driven emails for eCommerce and remarketing, and live-streaming video capabilities. Monitor your progress with a personal account manager, enjoy custom integration with any ESP or CRM, and even set up your custom domain.